Instructions for visiting L'Olivar and the Crypt
Visiting the Crypt is just like going to the theatre, a concert, the cinema, a museum, a temple, a religious ceremony, etc. You must be prepared to accept its liturgy and enter with a willingness to engage in an experience in a unique place and time. It is important to read the artistic report and watch the video on the realisation process and the sculpture garden at the Fundació l'Olivar.
The visit will last between seventeen and twenty minutes. For the visit, you will be required to:
You will need to take off your shoes and come in with thick socks that you will take from home.. This is to ensure silence, as well as respect for the space and for other visitors.
Turn off your mobile phone (forget that it exists during this short span of time).
Not take photographs.
Remain in absolute silence throughout the tour from the entrance to the exit.
Not throw coins into the water.
Use the handrail at all times when going up and down the stairs.
Children under ten are not permitted to enter the Crypt (except as part of a family group of at least twenty people) and children aged between ten and fourteen may only visit in the company of their parents or guardians.
People with physical disabilities must notify the foundation of this by email two weeks prior to their visit so that the appropriate logistical support can be put in place.
The services are located next to the bar-restaurant (blue porch)
During visits there is no bar service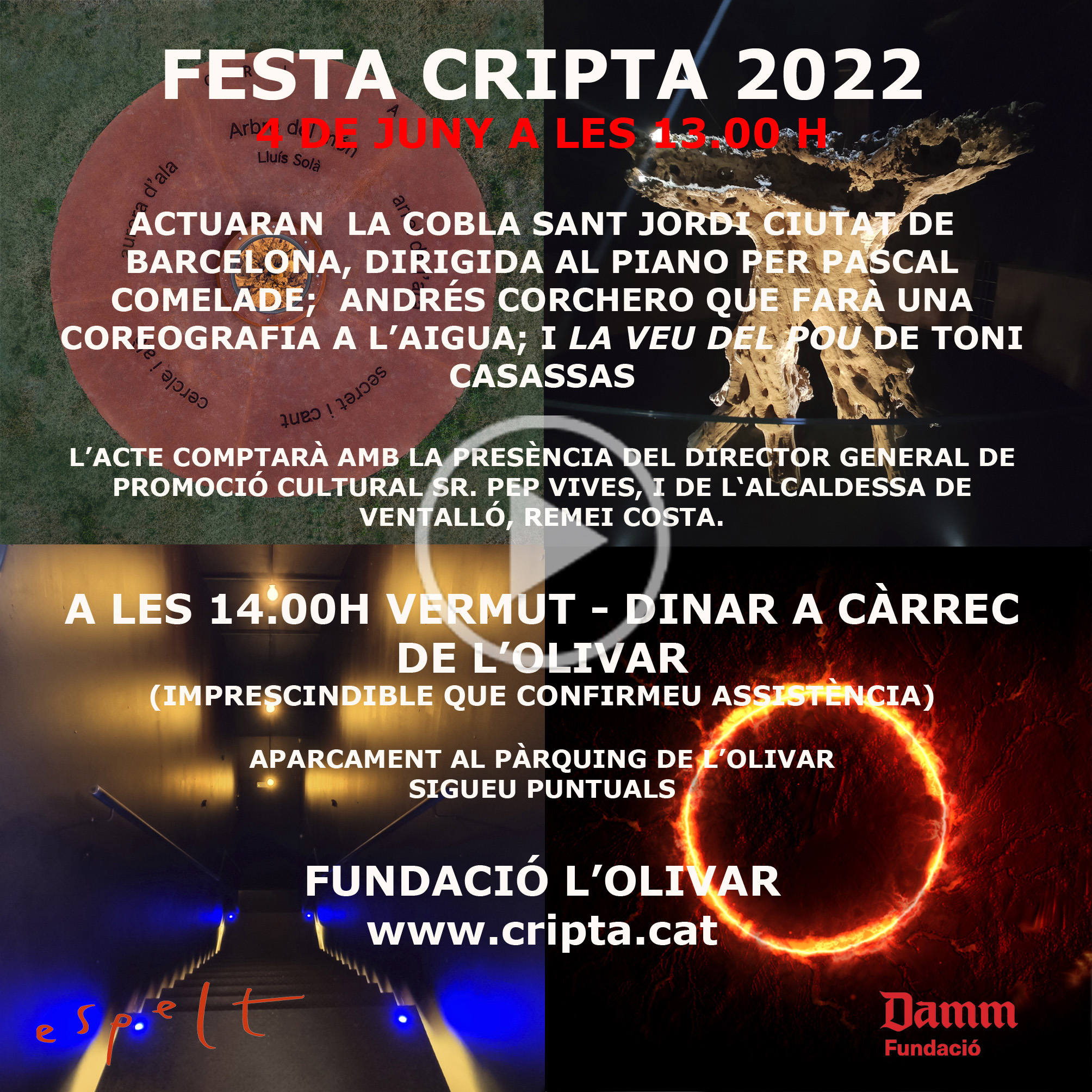 Dates and times
CLOSED FOR MAINTENANCE. WE WILL OPEN AGAIN ON MARCH 18
Saturdays at 12.00 and in the afternoon 17.00, Sundays at 12.00 Fridays to be agreed.
Guided tours arranged with groups of at least 12 people. The sculptor Enric Pladevall will welcome you and give you an explanatory talk about the project. The visit has a total duration of about 80 minutes.
Maximum punctuality and following the liturgy explained on this page is requested.

ANNUAL SCHEDULE
Open the second weekend of March and until the end of November.
Opening hours from March to the end of May: Only on Fridays and Saturdays in the morning at 12.00 and in the afternoon at 17.00 and on Sundays only in the morning at 12.00
June, July, August and September in the afternoon it will be at 18.30 or 19.00 during the hot months the schedule to be agreed.
Installations
The Crypt meets all safety and security requirements: emergency door, lighting, etc. The entire project has been certified by a qualified engineer and has the necessary building permits issued by Ventalló Town Council. The building work was carried out by highly skilled construction professionals.